James Holt, DVM/Owner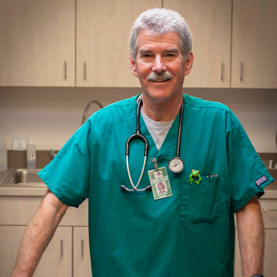 Dr. Holt has cared for animals at Carmel Valley Veterinary Hospital since 1975 and is also an owner. Born in Yakima, Washington, Dr. Holt lived in many different areas of the United States and Europe before finally settling in Carmel Valley in 1958. To fulfill his lifelong dream of becoming a veterinarian and working with animals, Dr. Holt attended UC Davis where he received his Bachelor's Degree in Animal Physiology. He went on to receive his Doctorate of Veterinary Medicine at Davis in 1974. He is currently a member of the MBVMA, CVMA, and AVMA. His professional interests include soft tissue and orthopedic surgery. Dr. Holt's favorite part about being a veterinarian is the "human/animal bond." He feels very satisfied knowing he is helping both the animals and their owners.
When he is not busy at work, Dr. Holt enjoys a number of outdoor sports, including road and mountain biking, kayaking, skiing and hiking. He can also be found in the kitchen cooking delicious meals alongside his wife, Leslie; keeping in touch with his daughter Brittany and son Matt; or being entertained by his Portuguese Water Dogs, "Coco" and "Marcus", or the family cat "Riley".
Lisa Boczar, DVM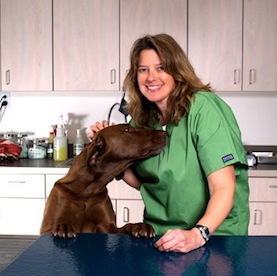 A native of Dearborn, Michigan, Dr. Lisa Boczar has cared for pets as an Associate Veterinarian at Carmel Valley Veterinary Hospital since 2001. Dr. Boczar previously practiced medicine at Durango Animal Hospital in Colorado from 1993 to 1999; Long Lake Veterinary Hospital & Sutton's Bay Veterinary Hospital from 1999 to 2000; and at Rogue Animal Hospital in Oregon from 2000 to 2001.
Dr. Boczar attended Northern Michigan University and Michigan State University, where she majored in Wildlife Biology and received her Bachelor's Degree in Veterinary Science in 1991. She graduated from the Michigan State University College of Veterinary Medicine with highest honors and was awarded her Doctorate of Veterinary Medicine in 1993. Her professional interests include dermatology and internal medicine. Her goal is to improve the quality of life for her patients and clients as best she can.
Dr. Boczar shares her home with her husband Chris and their two children Chase and Olivia. "Sierra," their Labrador/Hound mix, loves swimming and running at the beach; their two cats "Architeuthis" and  "Drucilla" enjoy the sunshine and hunting opportunities offered in Carmel Valley. Dr. Boczar's hobbies include traveling, running, hiking, biking, and reading.
Aysha Taff, DVM
Dr. Aysha Taff has cared for animals at Carmel Valley Veterinary Hospital since 2013. She was born in Redding, but has been a Central Coast resident since 1979, and knew she wanted to work with animals as a child in Los Osos.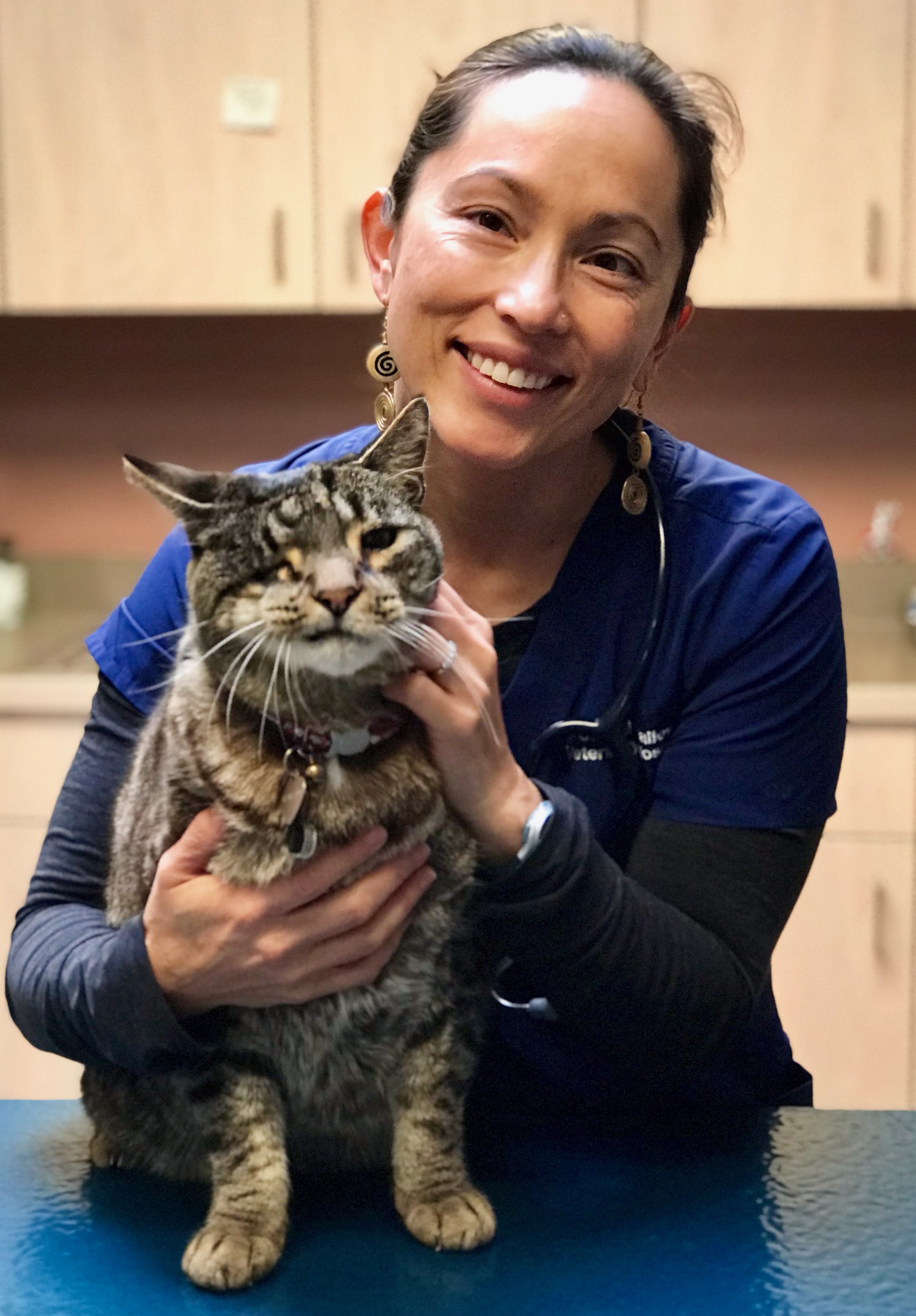 She attended the University of California, Davis, where she completed a Bachelor's degree in Wildlife, Fisheries, and Conservation Biology (1998) and her Doctorate of Veterinary Medicine in 2002. Further interest in pediatric organ development led her to attain a Ph.D. in Developmental Lung Toxicology in 2006, and in 2009, she became a Certified Veterinary Acupuncturist through the Qi institute.
Dr. Taff's favorite part of the practice is optimizing the wellness of pets and their families using multiple available treatments, with snuggling feline and canine patients running a very close second. (She has even crawled through culverts to rescue kittens!) She is a big believer in the low, to no-stress, veterinary visit, and her patients appreciate it.
Dr. Taff enjoys spending time with her husband Tyson, their girls Naia and Xochi, cat Figaro, and dog Emma. During Dr. Taff's spare time, she enjoy swimming, hiking, reading, and studying the practice of Integrative Medicine, geriatric care, and pharmacology.
Margaret Finlay, DVM
Dr. Margaret Finlay joined the practice in 2017. She was born in Banff, Scotland, United Kingdom where she received her Bachelor's degree in Veterinary Medicine and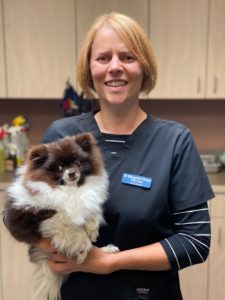 Surgery. Further interest in equine medicine led her to attain a Ph.D. by studying equine sarcoids, and papillomaviruses. Dr. Finlay specializes in general medicine, but has a professional interest in internal medicine, animal behavior, and holistic medicine. Dr. Finlay received the McCall Award for finishing first in her class at the Royal College of Veterinary Surgeons, and went to the same school as James Herriot, famous author and British Veterinary Surgeon.
Dr. Finlay's favorite part of the practice is helping other peoples' pets, as she does have any pets of her own. She also enjoys the Doctors she works with, and all of the staff at Carmel Valley Veterinary Clinic.
When not helping animals, Dr. Finlay enjoys a good glass of red wine, along with a competitive game of Scrabble with her husband and step-son. She would like to write a best-selling book someday, and enjoys researching and learning, as she considers herself a nerd.
Richard Lookinghawk, Registered Veterinary Technician/Hospital Administrator/Owner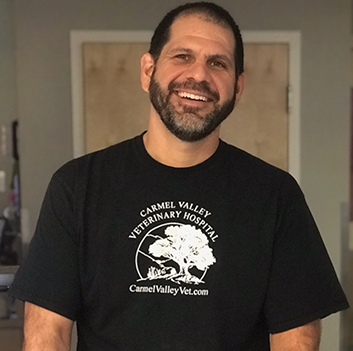 Hospital administrator and owner Richard Lookinghawk has been a part of Carmel Valley Veterinary Hospital since 1993. He began his career volunteering in the kennel, which led to his interest learning and retaining everything he could to become who he is today. Richard is always ready and willing to take on a challenge and help anyone in need. His strong work ethic, win-win attitude, commitment to excellence, and sense of humor provides for an enjoyable and educational workplace for staff and clients alike. Outside of work, Richard enjoys hiking, exploring new trails with his mountain bike, kayaking, and spending time with his wife Jesika, their two children, Ian and Maggie, and his dogs Henry and Odie.
Diane Rivera, Certified Veterinary Assistant/Operations Manager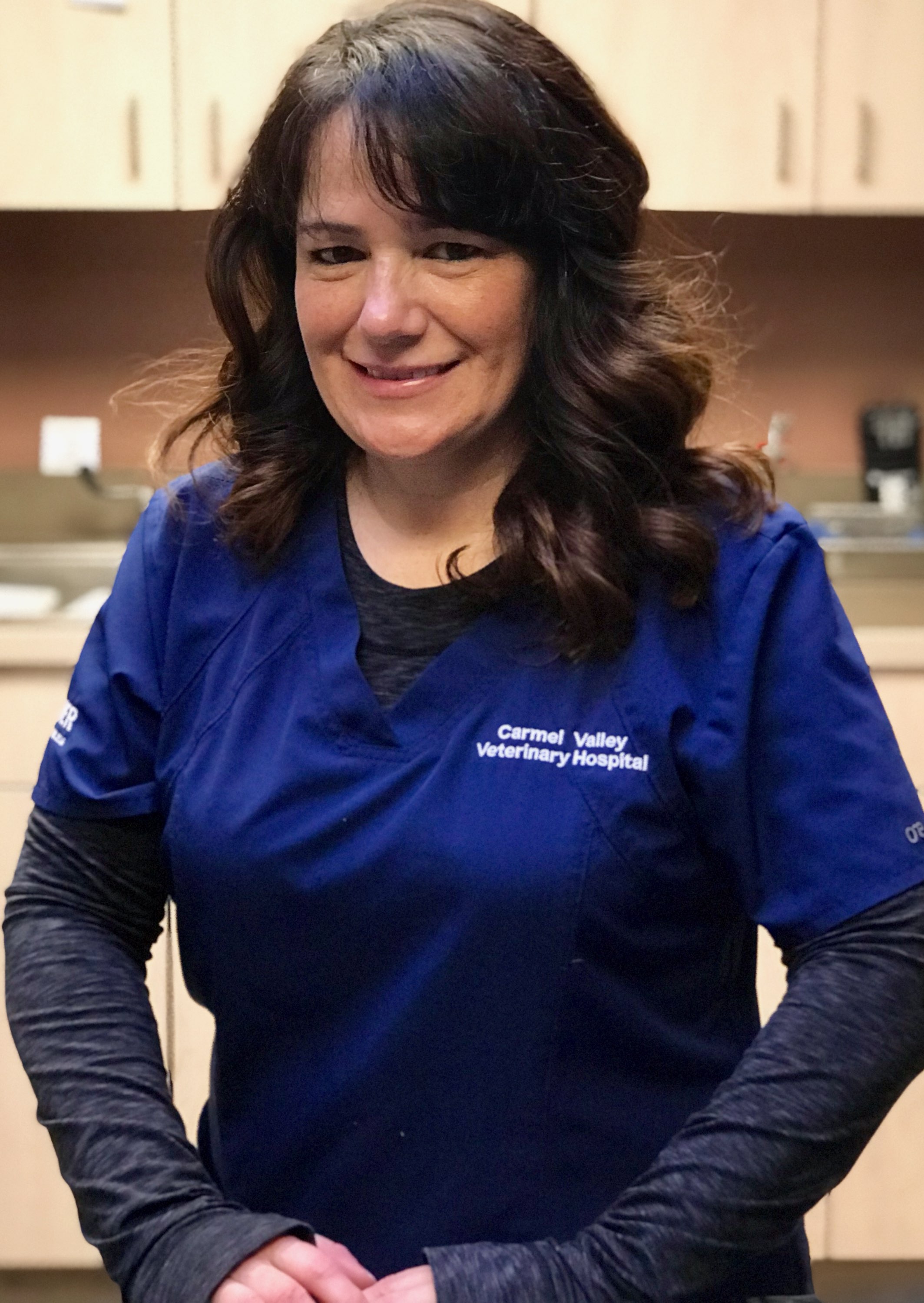 Certified Veterinary Assistant, and Operations Manager, Diane grew up in Chicago, Illinois, but has been a part of the Carmel Valley Veterinary Hospital family since December 1997. She started her career as a receptionist, then promoted to a technician, and finally a manager where she has maintained her goal of providing the best care and services to the clients and their beloved pets. Animals have always held a special place in her heart, and when she was a child, she dreamed of someday working with animals. She has always been dedicated to observing and learning everything she could on the job so she could provide the best service to the clients. Diane enjoys hiking, biking, and spending time with her husband, and three daughters, along with the family dogs, Teva and Shadow.
Jesika Lookinghawk, Registered Veterinary Technician 
Jesika Lookinghawk, RVT, has been the lead technician at Carmel Valley Veterinary Hospital since 2005. A lifelong Monterey county local, she has been working in the animal field (including handling livestock and exotics) since 1996. She has a great time working here with the amazing doctors and staff and she loves having the opportunity to help care for the animal patients and serve the clients. When she is not working, she  enjoys cooking and hiking with husband Richard, two children Ian and Maggie and dogs Henry, and Odie.
Denise Smith, Veterinary Assistant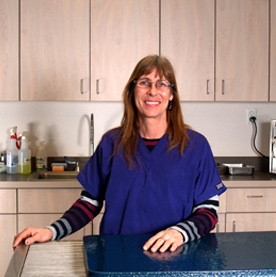 Veterinary Assistant Denise is a native of Burlingame, CA. but now resides in Carmel Valley with her dog and six cats. Denise loves being on the move to assist staff with any task, and welcomes the new challenges each day brings, and the opportunity to learn as much as she can before retiring soon. She truly values the support from the doctors, and her fellow employees, and loves the people she works with. When Denise is not at work, you can usually find her either hiking, fishing, camping, or watching a scary movie at home.
Casey Hilliard, Certified Veterinary Assistant/Assistant Manager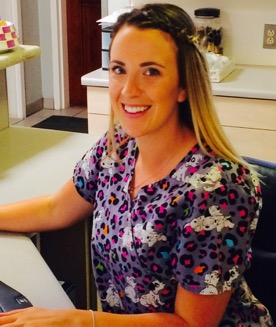 Assistant Manager Casey was born and raised on the Monterey Peninsula, and joined the team in February 2012. Casey is an animal lover, and values the bond and relationship she is able to form with the animal patients, and their parents. One of her goals is provide outstanding customer service, and effectively communicate with clients so everyone has a win-win experience. Her free time is spent with her husband Bret, her daughter Audrey, son Brady, and her fur babies; Rosie, the French Bulldog, and Jessie, her grumpy cat. Casey takes pride in crafting, and enjoys hiking or any activity involving having fun with her family.
Stacy Hernandez, Kennel Manager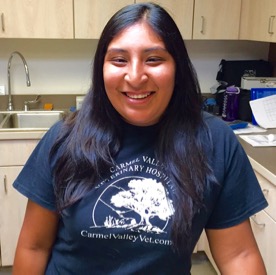 Kennel Manager Stacy, was born and raised in Monterey, CA. where she still resides. She began her career at Carmel Valley Veterinary Hospital in August 2014, with this being her first experience working with animals. Stacy loves working with animals and plans on growing her career with the hospital. She loves the family like atmosphere, and how much joy it brings her to be around animals every day. Walking, cooking, trying new foods, gardening, and spending time with her two boys at the beach are some of Stacy's favorite, fun-time activities.
Danielle Sandoval, Certified Veterinary Assistant, Client Services Specialist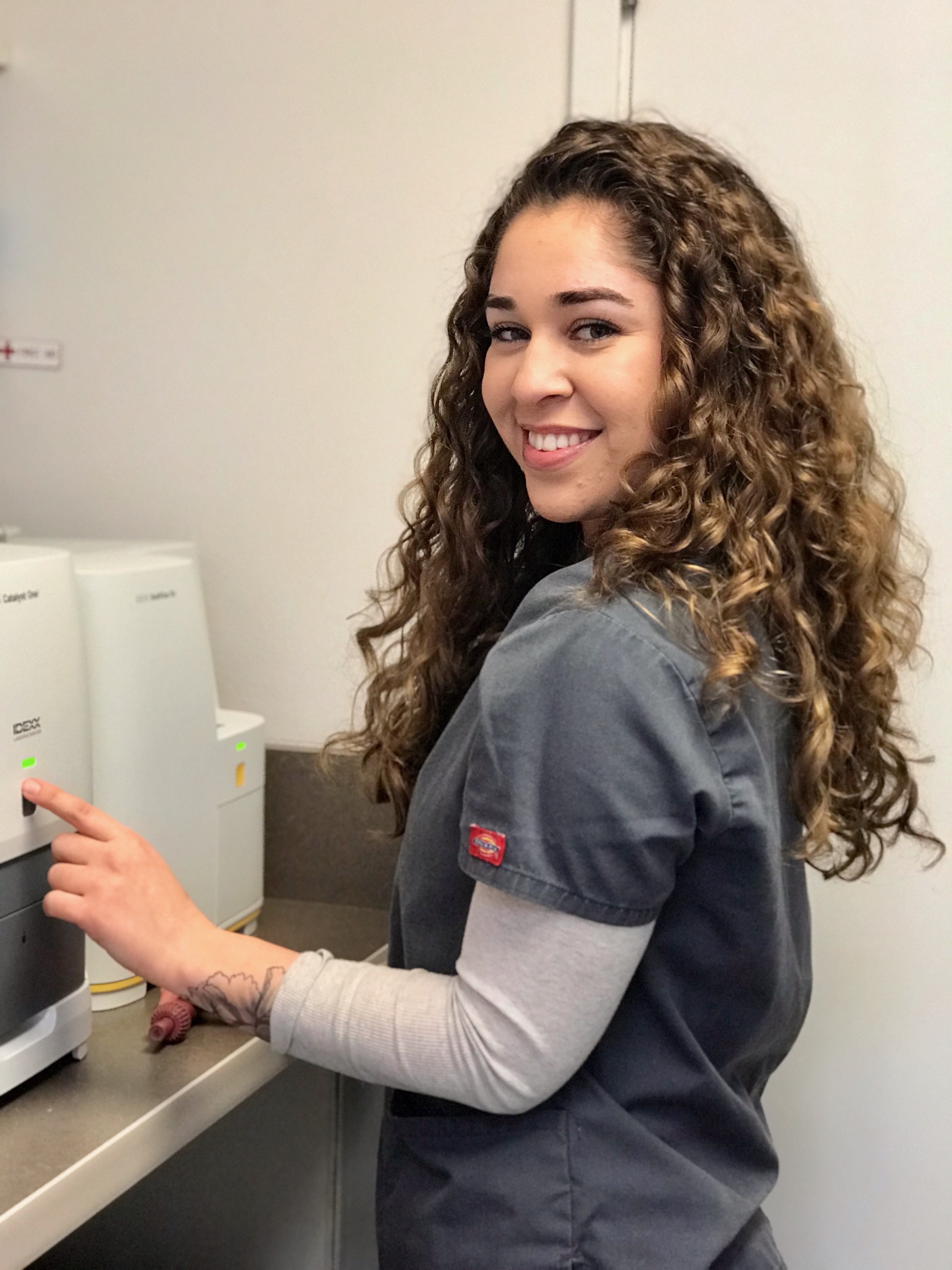 Certified Veterinary Assistant Danielle was born in Los Angeles, CA. and has worked at Carmel Valley Veterinary Hospital since September 2015. Working with animals is one of her passions and she enjoys all the different personalities of the dogs and cats who visit the hospital. When she is not at work, she enjoys hiking, and going to the beach with her eight year old Rottweiler, Zion. Danielle loves to eat, and one of her life goals is to travel the world and try all the delicious food each country has to offer.
Dalton Ogletree, Kennel Assistant/Technician Assistant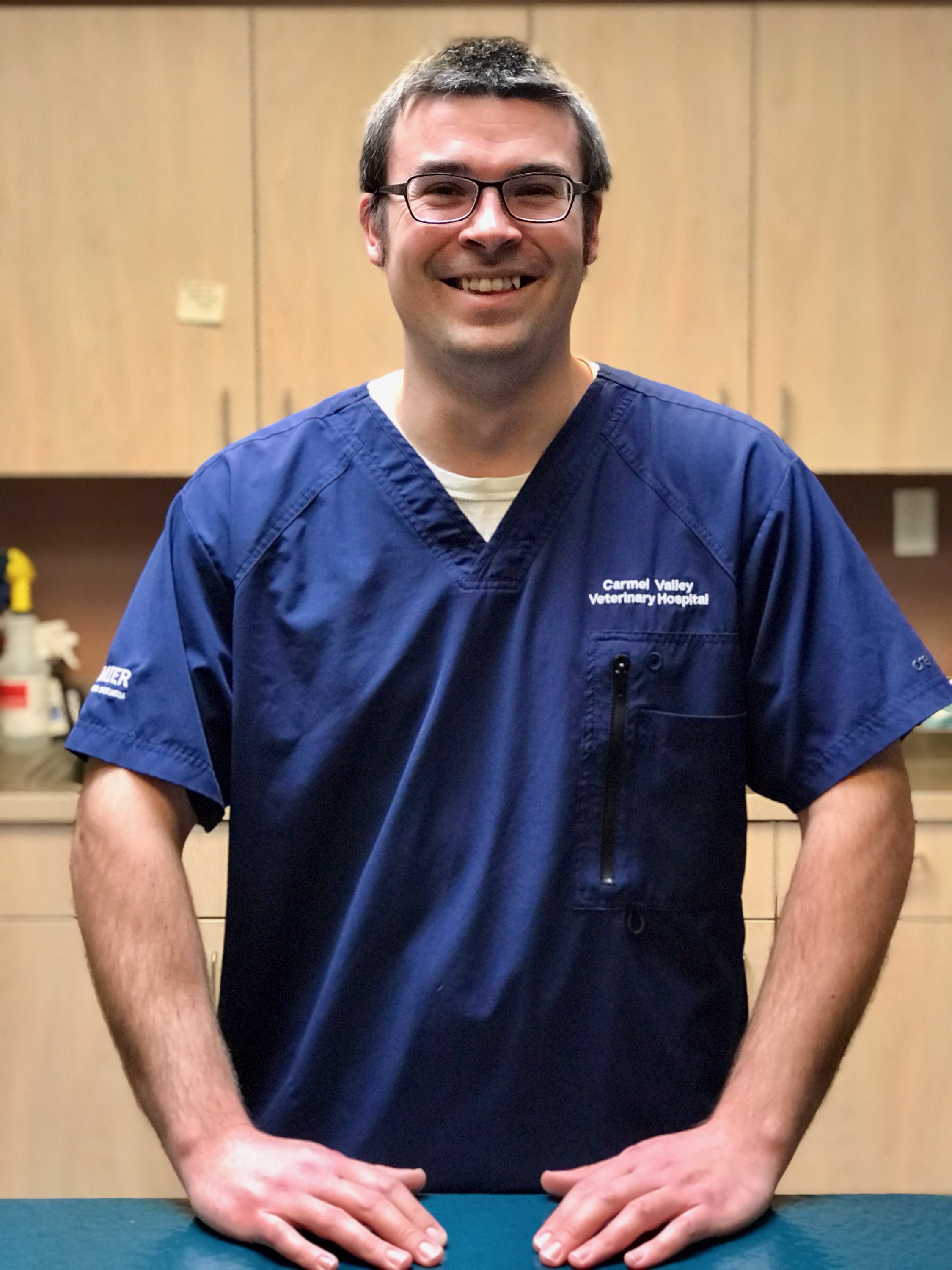 Kennel Worker/Technician Assistant Dalton was born in Monterey, but grew up in Carmel Valley, where he currently resides. Dalton joined the Carmel Valley Veterinary Hospital family in December 2017, and has continued to learn valuable skills, and excel in his career. His favorite part of the practice is bonding with cats and dogs. Dalton's hobbies include listening to music, watching movies, and spending time with his Boxer/Pitbull mix.  His goals include owning his own home, and having a family someday.
Olivia Ramos, Kennel Assistant/Technician Assistant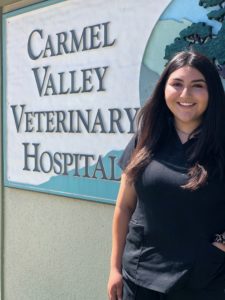 Kennel Worker/Technician Assistant Olivia was born and raised on the Monterey Peninsula, and joined the team in 2020. Olivia enjoys the family-like atmosphere between the doctors and staff, and values learning new skills every day. Olivia has grown up around animals, has a cat named Bubba, a dog named Daisy, and also raises pigs for the 4-H program. In her free time she enjoys riding dirt bikes, crafting, 4-H, and working hard on her studies so she can graduate high school, and start college.
Karina Poma, Client Services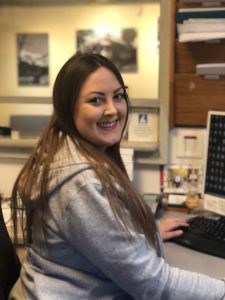 Client Services Specialist Karina was also born and raised on the Monterey Peninsula, but spent some time living in Argentina when she was younger. Karina joined the CVVH team in 2020, and loves working with the clients, and their pets. She has a goal to grow her career, and learn more about the medical side of veterinary medicine. In her spare time, Karina enjoys playing pool, and spending time with her husband, childhood sweetheart, Stephen, as well as cuddling with Mack and Molly, their dogs.