As part of our continued efforts to provide top level care and integrative veterinary medicine to our patients, we are excited to announce our new partnership with Animal Dental Care.  

   Animal Dental Care has been providing maintenance and preventive oral screening and cleanings without the use of anesthesia for over two decades. Our combined experience and protocols will ensure an effective, safe, and comfortable environment for your pet.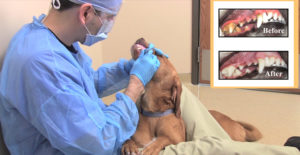 We are offering pet parents the opportunity of preventive health care and early problem detection without the use of anesthesia.  Preventive oral health care can provide our patients with optimum health and help reduce the epidemic of dental disease now being experienced by the majority of our 4-legged population.  The goal of non-anesthetic dentals is to increase both the quality and the length of the lives of our patients.  We will strive to keep your pets teeth and gums healthy in between traditional anesthetic dental cleanings as well as take the time to detect any changes in your pets overall oral health. 

    On the day of your appointment our highly skilled technicians will perform an assessment to ensure your pet is a good candidate for the procedure.  If your pet is deemed a good candidate, the dental hygienist will sit patiently with your pet to ease them into the procedure, beginning with a full screening of every tooth and gum condition. This is followed by a full cleaning and machine polishing. After the procedure, the technician will take the time to review your pets experience and provide recommendations for continued home care.
    If you like to find out if your pet would be a good candidate for a non-anesthetic dental, please contact us at 831-659-2286.
Limited time offer.
First 25 patients will receive 10% off dental services.
Offer expires 06/30/21