James Holt, DVM/Owner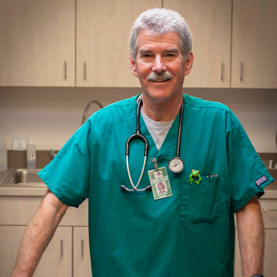 Dr. Holt has cared for animals at Carmel Valley Veterinary Hospital since 1975 and is also an owner. Born in Yakima, Washington, Dr. Holt lived in many different areas of the United States and Europe before finally settling in Carmel Valley in 1958. To fulfill his lifelong dream of becoming a veterinarian and working with animals, Dr. Holt attended UC Davis where he received his Bachelor's Degree in Animal Physiology. He went on to receive his Doctorate of Veterinary Medicine at Davis in 1974. He is currently a member of the MBVMA, CVMA, and AVMA. His professional interests include soft tissue and orthopedic surgery. Dr. Holt's favorite part about being a veterinarian is the "human/animal bond." He feels very satisfied knowing he is helping both the animals and their owners.
When he is not busy at work, Dr. Holt enjoys a number of outdoor sports, including road and mountain biking, kayaking, skiing and hiking. He can also be found in the kitchen cooking delicious meals alongside his wife, Leslie; keeping in touch with his daughter Brittany and son Matt; or being entertained by his Portuguese Water Dogs, "Coco" and "Marcus", or the family cat "Riley".
Lisa Boczar, DVM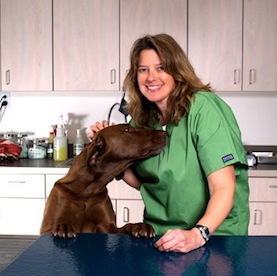 A native of Dearborn, Michigan, Dr. Lisa Boczar has cared for pets as an Associate Veterinarian at Carmel Valley Veterinary Hospital since 2001. Dr. Boczar previously practiced medicine at Durango Animal Hospital in Colorado from 1993 to 1999; Long Lake Veterinary Hospital & Sutton's Bay Veterinary Hospital from 1999 to 2000; and at Rogue Animal Hospital in Oregon from 2000 to 2001.
Dr. Boczar attended Northern Michigan University and Michigan State University, where she majored in Wildlife Biology and received her Bachelor's Degree in Veterinary Science in 1991. She graduated from the Michigan State University College of Veterinary Medicine with highest honors and was awarded her Doctorate of Veterinary Medicine in 1993. Her professional interests include dermatology and internal medicine. Her goal is to improve the quality of life for her patients and clients as best she can.
Dr. Boczar shares her home with her husband Chris and their two children Chase and Olivia. "Sierra," their Labrador/Hound mix, loves swimming and running at the beach; their two cats "Architeuthis" and  "Drucilla" enjoy the sunshine and hunting opportunities offered in Carmel Valley. Dr. Boczar's hobbies include traveling, running, hiking, biking, and reading.
Richard Lookinghawk, CVA, Hospital Administrator/Owner
Hospital administrator and owner Richard Lookinghawk has been a part of Carmel ValleyVeterinary Hospital since 1993. He began his career as a kennel volunteer, learning and retaining everything he could to become who he is today. Richard is always ready and willing to take on a challenge and help anyone in need. His strong work ethic, commitment to excellence and sense of humor provides for an enjoyable and educational workplace. Outside of work, Richard enjoys hiking, biking, kayaking, and spending time with his wife Jesika, and their two children, Ian and Maggie.
Diane Rivera, CVA,  Operations Manager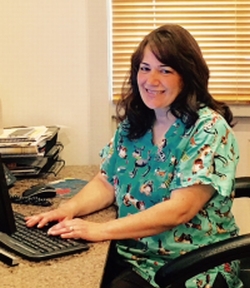 The Operations Manager, Diane Rivera, has been working here since December 1997. Originally from Chicago, Illinois, Diane has been a Monterey resident for many years. Starting out as a receptionist, technician and now a manager, she has grown and changed with the company. She is dedicated to her employment here because she feels like she is a part of a small family of people who, like herself, find work at CVVH rewarding and fulfilling. She enjoys providing a great service to the pets and owners alike, as animals have always held a special place in her life. When she is not working, she is spending time with her family including her Animal Friends Rescue dog "Tewa". In her spare time she loves to hike, go camping, hang out with her husband, Dylan and their daughters, Sarah, Nicole, and Makya.
Denise Smith, Veterinary Assistant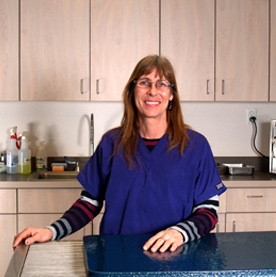 Monterey local Denise Smith has been a veterinary technician here since March 1999. Denise is always on the move assisting the doctors and her co-workers with every task at hand. She enjoys that the atmosphere here is so positive, especially because with every day comes new challenges and learning experiences. She especially values the support and love from the doctors and her fellow employees.  When she is not at work, she is hiking, watching movies, fishing, reading, and spending time with her friends.
 Jesika Lookinghawk, RVT
Jesika Lookinghawk, RVT, has been the lead technician at Carmel Valley Veterinary Hospital since 2005. A lifelong local, she has been working in the animal field (including handling livestock and exotics) since 1996. She has a great time working here with the amazing doctors and staff and she loves having the opportunity to help care for the patients and serve the clients. When she is not working, she  enjoys her newfound love for yoga and running and loves spending time with her cat, "Cheddar", dog, "Henry", her husband, Richard, son Ian, and daughter, Maggie.
 Casey Hilliard, CVA, Assistant Manager/Client Services
The friendly face you'll see as you come through the door will often be assistant manager and client service specialist Casey Hilliard. A Monterey local and an employee since February 2012, she brings a fresh, new personality to the hospital. Her love for animals and customer service makes her feel that Carmel Valley Veterinary Hospital brings out the best in her. She always has the clients' and patients' best interests in mind. Her free time is spent with her fiancé, Bret, daughter, Audrey, son, Brady, dog, "Bubba", cat "Jessie", and her very close-knit family.
Stacy Hernandez, Kennel Manager
Stacy, kennel assistant, born and raised on the Monterey Peninsula, began working at Carmel Valley Veterinary Hospital in August 2014.  With this being her first experience working in a veterinary hospital, she has come to love the atmosphere and plans on being here for a long time.  She loves how she feels like she is apart of a big, happy family and how much joy it brings her to be around animals every day.  Outside of work, she is dedicated to her young son, Jelahny and her cat, "Gilbert."  She also enjoys running, walking, going to the beach, and cooking.  Her dream is to go to college and get her degree in the medical or psychological field.
Alex Lopez, CVA
Alex was born in Jalisco, Mexico and moved to Salinas when he was just 9 months old.  As a veterinary assistant, working here since February 2015, he already feels like he has found his calling.  He loves learning the medical aspects of the job and is fascinated by how much goes into helping and caring for the animals.  He also enjoys the family-like atmosphere of the hospital and works well with everyone.  His goal is to continue to learn the trade and eventually become an RVT.  Alex likes to remain active outside of work hiking, biking, going to the movies, and taking his dog, "Cookies" to the beach.
Danielle Sandoval, CVA, Client Services Specialist/Veterinary Assistant

Danielle, a Monterey local, has been working at Carmel Valley Veterinary Hospital since September 2015.  Customer service has always been a passion of hers and she has been involved in it for many years.  Working with animals is something she had wanted to try, and now that she is here, she could not be happier.  She enjoys learning the ins and outs of the hospital and hopes to be able to continue to learn and grow here for a long time.  When she is not assisting our clients and their pets, she enjoys hiking, riding her bike, and spending time with her family and friends.
Kevin Lopez, Kennel Assistant
Kevin was born in Jalisco, Mexico and came to the U.S. at the age of 3.  He began working at Carmel Valley Veterinary Hospital in November of 2016.  He had already been working in the medical field and knows that it's the field he wants to be in whether it is working with people or animals.  As the Kennel Assistant, he enjoys caring for the dogs and cats that are in the boarding facility.  He loves his job and hopes to be able to stay working here and learn what it takes to advance in the veterinary field.  His favorite things to outside of work are hiking, watching movies, and playing video games.
Jordan D'Aurio, Veterinary Assistant
Jordan was born and raised in Connecticut and recently relocated to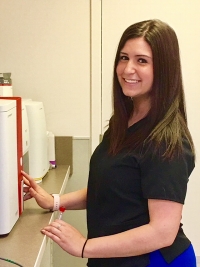 California this last year.  She began working at Carmel Valley Veterinary Hospital in February of 2017.  Along with her passion for working with animals, she is currently pursuing her Veterinary Technology Degree to become an RVT.  She has enjoyed her hands-on experience at Carmel Valley Veterinary Hospital and has been able to learn all of the different parts of working in the veterinary profession.  Jordan enjoys spending time with her friends, hiking, and taking her dog, Charlie to the beach when she is not at work or studying for school.